Authentic Synthetic Slate Roof
Get refurbishment quote TODAY from Truly
Breath a new lease of life into your conservatory and transform it from a wasted space to a stylish room that you can use all-year-round.
Replacing old and failing polycarbonate or glass roof material with long lasting*, synthetic slate tiles can eradicate the problems that result in a conservatory being underused or totally neglected.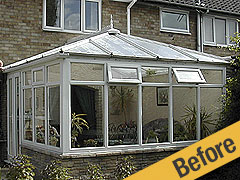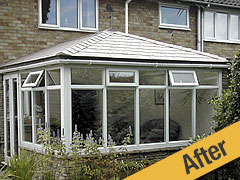 Attractive, dry and comfortable.
Leaking roof
Too hot in Summer
Too cold in Winter
Costly to heat
Damaged and unsightly
Too noisy during rain
Our Tapco Warm Roof system can completely replace your existing roof with a prefabricated one, which includes; new ring beam, glazing bars, ridge, insulation, internal plasterboard and external board membrane, tile and gutter.
The roof looks authentic and offers greatly improved thermal efficiency, which can reduce Winter heating costs by as much as 80%.
Take a look at our standard range of authentic synthetic slate.

The Tapco Warm Roof Slate Roof Conversion Process
From initial survey, through installation and interior finishing, our process is quick and unobtrusive, so disruption is kept to a minimum.
Survey
Structure of roof and frames is assessed and options discussed
Preparation
Existing glazing, cappings etc removed
Roofing
Timber mounts and strengtheners added as required. Roof windows fitted if desired. Breathable membrane and roof battens fitted. Tiles, ridges and verges fitted as necessary.
Interior
Insulation fitted between glazing bars. Underside battened if necessary before fitting with foil-backed plasterboard and skimming. Lights, switches, fans etc fitted to specification.
* Tapco Synthetic Slate Tiles are guaranteed for 50 years.
Quick turnaround of quote
Fully serviceable BBA approved parts
Specialist fitting teams
Insurance-backed guarantee available

We can fix leaking conservatory roofs, conservatories that are too hot / too cold and misted double glazing – once and for all.
Our experience in designing, installing and maintaining conservatories will help restore yours to full working order, becoming a room that you can enjoy for years to come.
Fully insured, professional experienced staff.
Or complete the form and we'll be back in touch. It really is that easy!
Contact Truly
Unit 2
34 Wood Street
Openshaw
Manchester M11 2FB