Areas Covered across the North West
Truly Conservatory Repairs operates within a 35 mile radius of our base in Openshaw, Greater Manchester.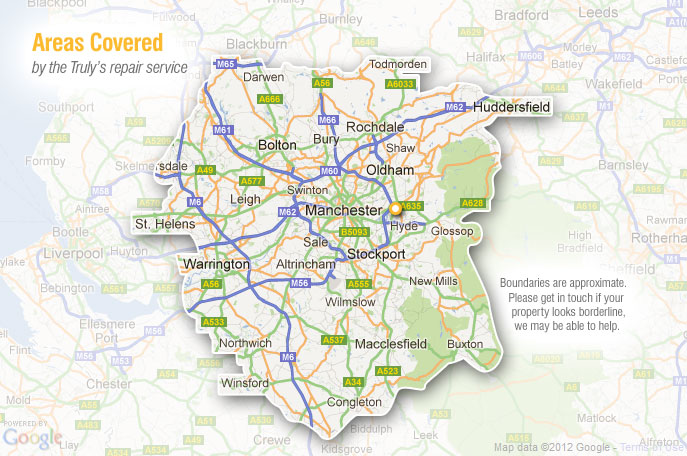 Quality Conservatory Repair and Conservatory Cleaning across the North West
Lancashire Conservatory Repair and Cleaning. We have carried out a great number of repairs including, leaking conservatory roofs, slipped roof panels, cleans and more throughout throughout Lancashire:
Cheshire Conservatory Repair and Cleaning. Many areas of Cheshire have benefited from our specialist conservatory cleaning and conservatory repairs, included resolving too hot/too cold situations and conservatory security.
Merseyside Conservatory Repair and Cleaning. Truly specialise in providing customers with quality conservatory repairs and quality conservatory cleaning services. Truly have carried out such services, including finial and cresting repairs across Merseyside.
Greater Manchester Conservatory Repair and Cleaning. Conservatory repair and cleaning can prolong the working life of a conservatory, take advantage of the specialists at Truly who have operated in the following areas:
West Yorkshire Conservatory Repair and Cleaning. Broken conservatory glass, cracked conservatory brickwork and leaking conservatory roofs are just a few examples of remedial work carried out by Truly in West Yorkshire:
---
Don't worry if you appear just outside these boundaries, contact Truly as it's quite possible that we will be able to help.

We can fix leaking conservatory roofs, conservatories that are too hot / too cold and misted double glazing – once and for all.
Our experience in designing, installing and maintaining conservatories will help restore yours to full working order, becoming a room that you can enjoy for years to come.
Fully insured, professional experienced staff.
Or complete the form and we'll be back in touch. It really is that easy!
Contact Truly
Unit 2
34 Wood Street
Openshaw
Manchester M11 2FB