Replacement Roof
The roof is the most important structural element of a conservatory, providing strength, stability and ventilation. Roofs also endure the most punishment from the elements.
In some cases it may be prudent to replace the whole conservatory roof, as doing so may eliminate other problems inherent in older, inferior products.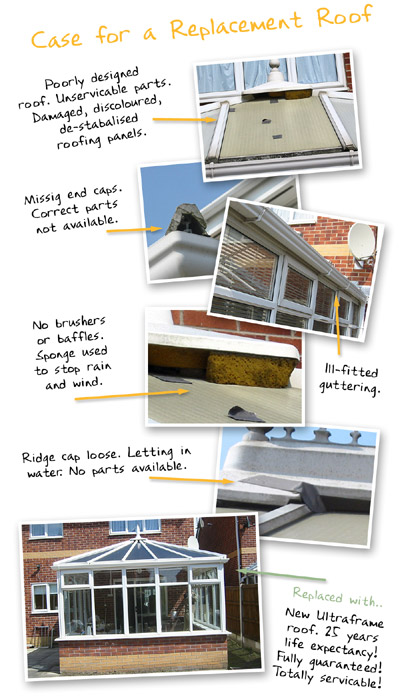 Replacement roofs are made to fit the existing frames and walls, so they are quick to fit and there is no need for the additional cost and inconvenience of frame and building work. Replacing a roof also provides an opportunity to change the style of roof, which could add a totally new look to your conservatory.
Replace or Re-cap Leaking Wooden Conservatory Roofs
Unfortunately, wooden conservatories do not fare quite so well against our harsh seasons, particularly if they have not been regularly maintained. A timber conservatory from the likes of Amdega, Wicks, Portland, Baltic Pine and B&Q can have lots of character and nostalgia, so replacing them can be a tough and costly decision. That is when a timber glazing solution should be considered.
Our parent company, Truly PVC Limited, sells conservatory, window and door parts and can supply the ALUKAP and Sunwood Timber Glazing Systems, which include all components necessary to seal a timber roof.
You may be interested in our Sunwood Screw-Down rafter bars, Sunwood Snap-Tight rafter bars and ALUKAP-XR Screw-Down system. The Snap-Tight range uses an aluminium base bar which is screwed to the timber rafters to seat the glazing material with uPVC top cappings that trap and seal. The Screw-Down system uses a rubber gasket fitted to the rafter and a powder-coated aluminium top cap that screws down into the rafter to trap and seal the glazing.
Benefits of using our replacement service
Quick turnaround of quote
Fully serviceable BBA approved parts
Specialist fitting teams
Insurance-backed guarantee available
Find out more about our other Conservatory Repair, Replacement Conservatory and Conservatory Refurbishment services.
We can also supply and fit the complete specialist Ultralite 500 Roof-in-a-Box, for situations where height is restricted, such as hosting a lean-to roof against a bungalow.