Change Failed & Inefficient Glass
A 'failed unit', also known as a 'blown unit', manifest as misted windows and are commonly caused by holes in the seal around the double-glazed unit. The desire to clear misted windows and improve thermal efficiency are the most common reasons for new double-glazed units.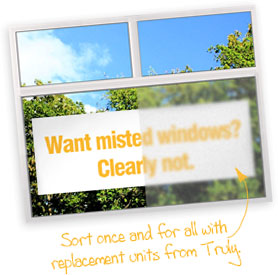 Failed Double-Glazed Units
Double glazing can develop a misted appearance when double-glazed units fail, also known as a 'blown unit' or 'failed unit'.
Holes in the seal around the double-glazed unit is a common cause of misted double glazing. Such holes need only be small to draw moisture from the atmosphere, which then causes what looks like condensation inside the window unit. Once inside the unit's cavity, changes in temperature can cause the moisture to condense. As more moisture is drawn in, with nowhere to go, units can end up holding considerable amounts of water.
Replacing misted double glazing
There are a number of repair techniques that some claim will solve the problem of misted double glazing, most of which involve drilling into the unit. We don't recommend such approaches as they can result in air circulating between the panes of glass, therefore no longer operating as a sealed, energy efficient window. Furthermore, those techniques seldom remove any staining that has taken place and are more likely to fail again.
The best solution for a misted double-glazed unit is replacement.
Energy Efficiency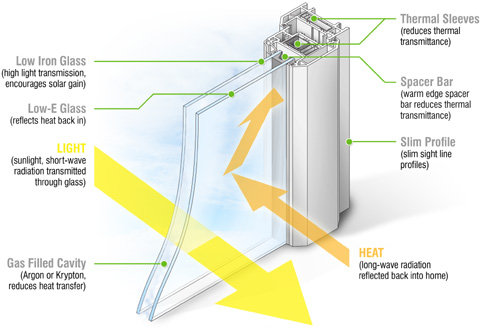 Windows are rated using a traffic light system to illustrate the level of efficiency, rather like that used for 'white goods' such as fridges and washing machines. Rating levels range from the most efficient 'A' rating through to 'G' rating.
Higher energy efficiency means greater all-year-round comfort and reduced heating bills.

Benefits of using our replacement service
Quick turnaround of quote
Fully serviceable BBA approved parts
Specialist fitting teams
Insurance-backed guarantee available
Find out more about our other Conservatory Repair, Replacement Conservatory and Conservatory Refurbishment services.