Replacement Ultralite 500 PVC Roof Panels
Get refurbishment quote TODAY from Truly
Ultralite 500
Ultralite 500 is a PVC roof system for lean-to conservatories, pergolas, carports and more.
Designed by industry leader Ultraframe as a free-spanning, low pitch roof, Ultralite 500 is ideal for situations where restricted height means that a low pitch is essential, such as attachment to a bungalow.
Like any material exposed to the elements for years on end, Ultralite 500 PVC roof panels can deteriorate and become less effective. This is less likely if basic maintenance is carried out, so it's worthwhile cleaning it now and then and dealing with any issues, such as damage from broken tile when it happens.
Problems with Ultralite 500 Low-Pitch Roof System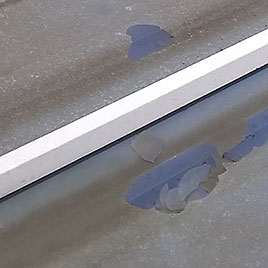 Cracked Panels
Ultralite 500 is known for its strength but if a roof tile comes loose and falls from above, damage to the outer layer is possibility. Gaffer tape or duct tape can offer a temporary solution, but replacement Ultralite 500 panels is the long term answer.
New Glass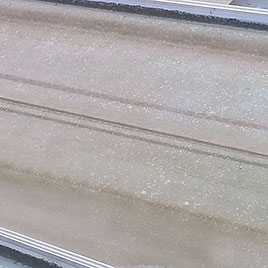 Discoloured Panels
Older Ultralite 500 panels were less able to retain their ice blue look, particularly on a south facing roof that wasn't cleaned periodically. They could take on an unsightly grey appearance. New improved panels revitalise the look and effectiveness.
New Fittings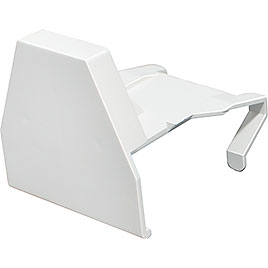 Damaged Trims
The Ultralite 500 roof system includes many ancillary parts, such as glazing bar end caps, drip closures, gutters and bar cappings, which can loose compression and become a potential source of leak. Replacing ancillary parts can extend a roofs life.
Makeover
Having worked closely with Ultraframe for over 15 years and carried out numerous Ultralite 500 repair and replacement projects, Truly Conservatory Repairs are well equipped to solve any Ultralite 500 Low-Pitch PVC Roof System problems.
Benefits of using our replacement service
Quick turnaround of quote
Fully serviceable BBA approved parts
Specialist fitting teams
Insurance-backed guarantee available

We can fix leaking conservatory roofs, conservatories that are too hot / too cold and misted double glazing – once and for all.
Our experience in designing, installing and maintaining conservatories will help restore yours to full working order, becoming a room that you can enjoy for years to come.
Fully insured, professional experienced staff.
Or complete the form and we'll be back in touch. It really is that easy!
Contact Truly
Unit 2
34 Wood Street
Openshaw
Manchester M11 2FB