Fix Leaking and Unsightly Guttering
Get refurbishment quote TODAY from Truly
Conservatory Guttering
Conservatory guttering takes considerable punishment from the elements, from baking under direct sunlight to being frozen and straining under the weight of excessive snow loads.
Such punishment can result in warped gutters, perished seals,snapped brackets and cracked guttering.
Broken, warped, leaking, discoloured conservatory guttering repaired and replace. If you're experiencing problems with the gutter around your conservatory, or a box gutter between the conservatory and your house wall, give us a call.
Replacement or repair of damaged, warped, leaking and discoloured guttering can be done quickly and efficiently by our team of engineers.
Call 0161 339 4982, we'd love to help
Broken Gutter Brackets
During periods of excessive snowfall, conservatory gutter brackets can break due to the extra load being applied by the weight of the snow and the effects of frost. The likelihood of such damage can be reduced by ensuring that gutters are free from debris and fresh snow is cleared before it freezes. We also recommend that brackets are spaced to manufacturers' guidelines, normally no more than 300mm to 500mm.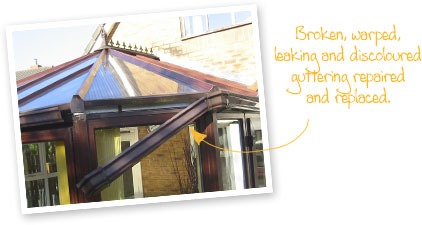 Replacement Gutter Brackets
If you plan to carry out a DIY repair to your guttering then visit our sister company, Truly PVC Limited, who stock a wide range of conservatory guttering:
Benefits of using Truly to secure slipped conservatory roofing
Quick turnaround of quote
Fully serviceable BBA approved parts
Specialist fitting teams
Insurance-backed guarantee available

We can fix leaking conservatory roofs, conservatories that are too hot / too cold and misted double glazing – once and for all.
Our experience in designing, installing and maintaining conservatories will help restore yours to full working order, becoming a room that you can enjoy for years to come.
Fully insured, professional experienced staff.
Or complete the form and we'll be back in touch. It really is that easy!
Contact Truly
Unit 2
34 Wood Street
Openshaw
Manchester M11 2FB