Solve Slipped Panels – for Good!
A common cause of leaks in conservatory roofs is slipped conservatory roof panels. Slipped panels create a gap at the ridge of the roof through which water can enter, along with cold drafts and noise. Slipped panels can be remedied by sliding the panels back into place and replacing any missing or broken conservatory end caps.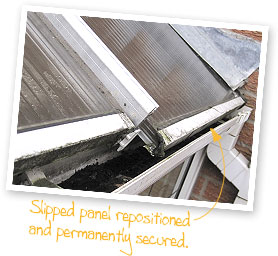 When dealing with slipped panels, we ensure that some form of retaining clip is fitted to stop the problem reoccurring. It's now standard practice to fit retaining clips or plates during installation of a conservatory, but it once wasn't. The glazing bar end caps and compression cappings alone were trusted to do the job.
If you have suffered with conservatory roof glass or polycarbonate panels that have slipped down then give us a call on 0161 339 4982, we'd truly love to help.
Benefits of using Truly to secure slipped conservatory roofing
Quick turnaround of quote
Fully serviceable BBA approved parts
Specialist fitting teams
Insurance-backed guarantee available
Buy our renowned kits for DIY repair
We have developed two kits that are offered as a means of securing conservatory roof panels in position and we use them in our repairs. We also offer them for purchase should you wish to carry out a DIY repair yourself or point your tradesman toward them. One is the Ultraframe End Cap Replacement Kit, which is ideally suited to Ultraframe conservatory roofs. The other is the Universal End Cap Replacement Kit. Alternatively, we may fit Glazing Support Brackets to the eaves beam of timber frame conservatories to secure the roofing.
Find out more about our other Conservatory Repair, Replacement Conservatory and Conservatory Refurbishment services.
Take a look at our parent company, Truly PVC Limited, to see end cap replacement kits , glass retaining plates, glazing support bracket and glazing support clips, which can secure slipped panels back into position and stop them slipping again.