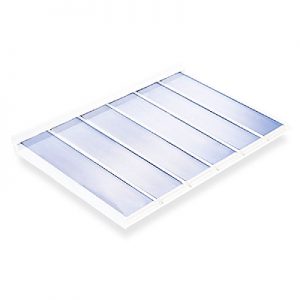 Ultralite 500 roof panels have been out of production for some time, whilst Ultraframe perfected the composition of the plastic. We are delighted to reveal that Ultralite 500 roof panels are now back in production.
That means we are once more able to carry out repair work to the industries favourite and best performing low-pitch roof system. It also means that we can supply complete Ultralite 500 roofs and replacement Ultralite 500 roof panels direct to trade or public from our sister site www.trulypvcsupplies.com.
Why do people like Ultralite 500 so much?
That's easy, it's because it is a unique product that is designed by industry leader Ultraframe to meets a very specific requirements.
Ultralite 500 is commonly used for lean-to conservatories, pergolas, carports and more and is designed as a free-spanning, low pitch roof where restricted height means that a low pitch is essential, such as attachment to a bungalow. Ultralite 500 can be pitched to as little as 2.5°. Also, it comes with a 10 year warranty and 25 year life expectancy.